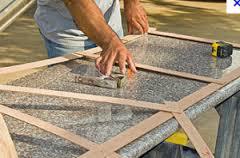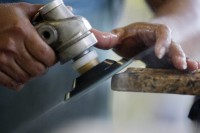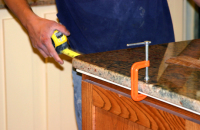 The template outline will be traced onto the slab. The exact countertop shape will be cut with a laser-guided saw equipped with a water-cooled diamond-tipped blade. The final step will be grinding and polishing the edges to achieve the desired finish before installing the countertop.
After making sure all cabinetry are leveded, the new countertop will be positioned on the cabinet base and sealed. The new sink will then be mounted underneath or above the countertop. Faucet holes will be drilled in the stone and final adjustments are made. 
A template of the dimensions, angles and openings in your old countertop will be made. Built from  plywood or plastic strips laid along the countertop perimeter and glued together, the template will include notations about edge profiles and sink styles.